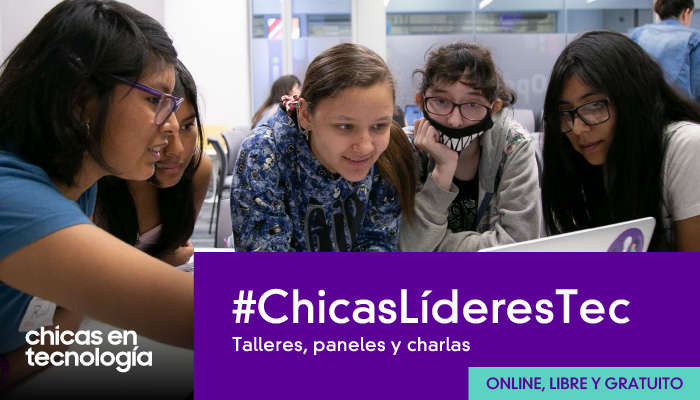 Online Chicas Líderes: A Borderless Access to the Technological World
Working in the field of technological entrepreneurship or training in technology are proposals that take on a new meaning in the current global context, marked by a pandemic that has accelerated and deepened the digitization of work, professional, domestic, educational and entertainment activities. For this reason, Chicas en Tecnología decided to adapt Chicas Líderes en Tecnología, its in-person, free and open to the public program, to be able to carry out the two 2020 editions online through Campus CET, the organization's digital campus. This is how more than 500 young women from 7 countries in the region got to know the world of technological entrepreneurship first hand. 
The participants, aged 13 to 21, learned about different subjects related to innovation, design, agile methodologies and job opportunities in the technological entrepreneurial field. "We adapted the Chicas Líderes Tec proposal to continue providing quality educational programs that create more and more diversity in the work teams. In a context of unprecedented uncertainty, we believe it is essential to support, train and motivate the next generation of female leaders in technology," said Nicolás Wainer, Program Coordinator at Chicas en Tecnología. 
In both editions of #ChicasLíderesTec, held on Saturday, August 15 and Saturday, October 24, young women from Latin America spent their afternoons sharing activities with peers and leaders in the technological entrepreneurial field. They visited digital stands inside the CET Campus, where they learned about technology through experiences with videos, games and playful proposals. As part of the activities designed for both online editions, the Chicas en Tecnología Programs team coordinated two panels of Mujeres Líderes. During the Chicas Líderes Tec in August, the focus was on the possibilities for professional growth in the technological industry. That is why data on the gender gap in technology was presented and leaders of the companies that attended the event shared their experiences as female professionals and leaders in the technological industry: how they currently work in a technological company, what their development opportunities were and their advice for the next generation of female leaders in technology. "Teamwork is essential and, to this end, we need to know how to communicate with others. It is very important for us to convey our ideas and also make ourselves heard, be self-confident and know that we have the same voice as our peers," said Julieta Caceres, from J.P. Morgan. 
In the second edition, held in October, the objective was to expand the information on the different options for training and academic development within the disciplines related to technology. That is why the panel's leaders of Mujeres Líderes talked about what careers they had studied, what were the challenges and opportunities, and what are the skills needed to develop in the technological entrepreneurial field. "The university gives you the opening to understand that you can do things on your own. You have to keep studying, keep training, you have to try to always be at the forefront, understanding what is moving the world," shared Fernanda Trosel, from Prisma Medios de Pago.
The meetings included participatory workshops that young women had previously selected according to their areas of interest, which addressed subjects such as: diversity and teamwork; agile methodologies and communication; design thinking; information security; feedback; soft skills; A/B testing; technology and its impact on human behavior. During these workshops, young women interacted with people specialized in the different subjects, asked questions and considered recommendations for further information. 
In both meetings, the participants, who connected from different parts of Latin America, had the opportunity to listen to the CET Ambassadors, young women who have gone through the Chicas en Tecnología programs and are currently studying and working in the technological entrepreneurial industry. They talked about and answered questions about their academic choices, the challenges they had faced, their interests and experiences during their first steps as women in technology. 
"I realized I wanted to start working and then choose a course of studies and college. It is important for them to investigate what they like and learn about it," advised Sofía Nuñez, CET Ambassador. 
Young women had a space to ask the CET Ambassadors all their questions about what it means to enroll in a course of studies related to technology and how is the professional world they live in on a daily basis. 
"Before CET, I had a stereotype of what it was like to work in Systems, and I think it's good to be able to see what it's like. I think it's good to create a community, to see how other people work on this. It changes the perspective of what it is to work in technology," said Clara Móline, CET Ambassador.
The participants of Chicas Líderes en Tecnología shared their thoughts about the experience, such as: 
"It was an excellent space to learn about the current situation in the technological field."
"The event was very good, as it provided a lot of information that I did not know and gives another look about the technological aspect."
"It was a very interesting experience from which I learned a lot and got to know about courses of studies and jobs that I had no idea about. I found many of them interesting. Lastly, I loved the message of gender diversity they convey."
"Thank you for all the information. I did not know anything about all the scopes we can have." 
The Chicas en Tecnología events were supported by: Mulesoft, a Salesforce Company; J.P Morgan; S&P Global Foundation; Despegar; Prisma Medios de Pago; Grupo San Cristóbal; Fundación Banco Ciudad, and Asociación de Guías Argentinas.