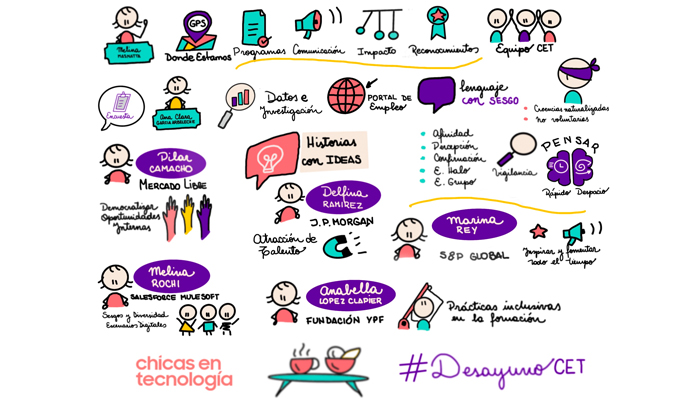 CET 2020 Breakfast: Innovation for Action
Chicas en Tecnología held the third edition of the CET Breakfast for organizations and companies of the technological entrepreneurial ecosystem. With a 100% online proposal, which allowed the participation of 80 referents and specialists from 6 Latin American countries, the event promoted the meeting between organizations and companies and strengthened the common objective of building an ecosystem in which there are more adolescents and women in technology.
In a challenging year for all professional and work areas, Chicas en Tecnología managed to boost its growth and achieve the regionalization of the organization with the support of alliances and sponsors. The context of the pandemic caused the digitization of content to expand the reach of adolescent women in Latin America through open and free programs of quality education. Innovation in the organization's work dynamics, in its processes and, essentially, in its programs was a central fact in reaching more girls, training and accompanying a new generation of women leaders in technology. For this reason, the meeting highlighted the importance of counting on the support of leading industry organizations to advance the gender equality agenda with inclusive, open and free proposals that allow the development of young women in the sector.
"Biases and diversity in digital settings" was the thematic axis during the morning of exchange, in which data, experiences and good practices of the technological environment were shared to generate commitments for action. The CET Breakfast included a workshop on "Unconscious biases in work spaces and strategies to break them down" by Ana Clara García Arbeleche, HR Advisor at CET, who shared: "The most diverse teams dialogue better because they integrate more perspectives, take better decisions, in more agile ways, and create more robust solutions". During the workshop, data and good practices from the world of technology were presented to encourage the participants to creating a systemic change that involves all the actors of the technological entrepreneurial ecosystem. Also, based on data generated by research by Chicas en Tecnología, the difficulty in balancing the demand for work in technology with the supply of available profiles to address these types of positions was highlighted, a challenge that becomes greater when it comes to incorporating diverse talent to companies and organizations.
The morning continued with the "Panel of Experiences" on real practices in the technological world in which women who are leaders of the ecosystem shared their testimonies. Participants: Pilar Camacho, Mercado Libre; Melina Rochi, MuleSoft; Delfina Ramirez, JP Morgan; Anabella López Clapier, YPF Foundation; Marina Rey, S&P Global. The experiences, good practices and data presented enriched the debate and collaboration among the people attending the meeting and served as an incentive to think about how to transfer these experiences to other areas. In their interventions, the participants of the Panel shared actions that are carried out in the organizations where they develop professionally to generate inclusive proposals:
"We were challenged to think how we could, aligned with our purpose of democratizing money and payments, democratize internal opportunities. And that's how the @MELI opportunities program was born, which seeks to democratize internal opportunities, with transparency, without bias ". Pilar Camacho, Free Market.

"What we did was develop training content on our internal platform that is available to everyone within our organization where there is content on inclusive business practices. For example, we have inclusive hiring, inclusive leadership, inclusive marketing, and inclusive promotions. These trainings in many cases are mandatory and are even among the strategic objectives of the business. Giving them priority and giving quality content to the entire organization is important to be able to implement successful comprehensive practices ". Melina Rochi, MuleSoft.

"At this moment we are developing a particular action with the Programming area where we make sure that all the female candidates that go through a selection process with us have an interview with a woman within the company, a woman who has a technology experience. Because we want them to be able to imagine what it is like to work at JP Morgan as a woman and to democratize the selection process for that candidate within the company ". Delfina Ramirez, JP Morgan.

"The training for managers is called Create, it is a full-year journey in which managers are addressing different topics that are key to leadership. Unconscious bias in particular is a subject that is discussed for 2 months. "
"We believe that diversity and inclusion unleash the potential that each of us has and ignite the spark of innovation." Marina Rey, S&P Global."We were using communication closely associated with the oil industry, with the strong man who was welding surrounded by fire-retardant material and sparks and that is the communication we were using trying to attract women to these courses. Of course, women ignored this communication and this year we changed it, now we think about it in a more inclusive way, we think about those hard things that are related to perception biases, that women were not going to be able, that you need to be strong or have a determined body to be able to carry out this type of training ". Anabella López Clapier, YPF Foundation.
With the aim of continuing to support diversity in work teams, the morning of shared experiences, learning and good practices challenged all participants to transform the organizations and, consequently, the environment where the next generation of girls in tech will be part.