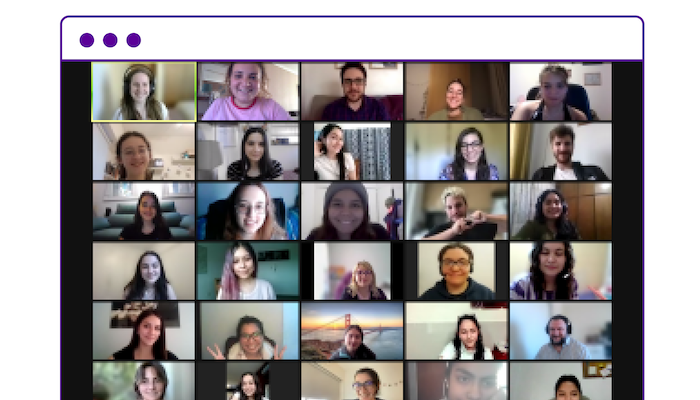 PUMM reached its 10th edition
6 years ago, Chicas en Tecnología launched Programming a Better World (PUMM), its first intensive social technology program for adolescent women. In its classic face-to-face format, of which 8 editions were conducted, the meetings proposed that participants from the Autonomous City of Buenos Aires and Buenos Aires Province (Argentina) work in teams to identify real issues in their environments and create an application to solve them. With the arrival of the pandemic, PUMM reinvented itself to adapt to the new virtual context. But not only did it change its format, which evolved from face-to-face to online, but it also renewed its content so that young participants could access training in technology and entrepreneurial skills appropriate to the current dynamic context in which technological solutions grow in reach and prominence. That is how, in 2020, the first online version of PUMM had participants from Arequipa, Lima, Mendoza, and Buenos Aires. And this year, on its 10th anniversary, it reached more girls in the region.
The 2021 online edition had 6 intensive working days and workshops run by industry professionals about problem identification, UX design, programming, and communication, among other key topics for the technological ecosystem. One of the novelties of PUMM 10 was the participation of CET Ambassadors, girls who already took the program and grew professionally in the technological ecosystem. They joined the team of mentors who accompanied the participants throughout the program. "This way we aim to create a space where girls who are starting out in the technology world, young women who already had their first professional experiences, and people with a consolidated career in the industry coexist," said Nicolás Wainer, regional leader of Chicas en Tecnología Programs. This is one of the key points of young women's access to and continuity in technology: meeting women who grow professionally in these fields may encourage them to get interested in these careers and evaluate them as an option. This is why the 10th edition of PUMM included a talk given by Romina Yalovetzky, Research Associate in Quantum Algorithms at J.P. Morgan, who shared her journey and professional experience with adolescent women. A Women in Technology Panel was also held with the participation of Verónica Moral, from S&P Global; Melanie Arakaki, from Mulesoft and Victoria Metallo, from J.P. Morgan.
This edition's participants worked in teams, collaboratively, and developing interdisciplinary skills to solve issues that they themselves spotted, addressing various topics such as: environmental pollution, recycling and environmental care, sex education for adolescents, plastic consumption, emotional support and mental health, and climate activism.
With a social context that accompanies, encourages, and provides them with opportunities, today's young women can be the next generation of female creators of technology with a social impact. PUMM creates a challenging experience where participants put their creativity into play at the service of a project that is useful to them and their communities. Having the opportunity to live experiences and proposals with scientific and technological content will allow them to develop and recognize their skills in those areas. Therefore, having achieved its first ten-edition cycle, Programming a Better World keeps updating its quality educational proposal to reach more and more young women.