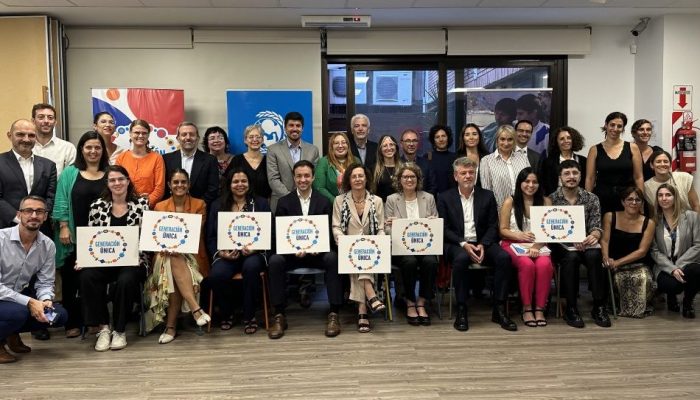 A Partnership to Reduce the Gender Gap in Secondary STEM Education
Chicas en Tecnología (CET) was invited by UNICEF to be a member of the Advisory Board of Generación Única Argentina (GENU), a strategic partnership that seeks to ensure the right to education of the adolescent population in Argentina. Paula Coto, Executive Director of CET, participated in the first Board meeting of 2023, the year in which GENU intends to work on reducing the gender gap in STEM disciplines so that more girls develop scientific and technological skills and vocations.
The Advisory Board of Generación Única Argentina is composed of national authorities, United Nations agencies, multilateral financing bodies, private sector leaders, academia, civil society organizations and young people with the aim of consolidating a multisectoral dialogue. The first meeting was welcomed by Luisa Brumana, representative of UNICEF Argentina; Kevin Frey, Chief Executive Officer of Generation Unlimited; and Cora Steinberg, Education Specialist of UNICEF Argentina.
In line with the goal set by GENU for this year, and as part of UNICEF's gender and STEM agenda, Chicas en Tecnología also participated in a meeting with the Generación Única global team in which the main axes for improving teaching-learning processes in secondary education were addressed. Based on CET's experience in comprehensive technology training for young people who identify with the female gender, the organization's Executive Director shared benchmarking practices and strategies to address gender barriers in the educational environment. One of the key purposes of the partnership with GENU is to enable adolescent girls to acquire and develop skills and knowledge that will be useful for their insertion into the labor market, such as digital and technological competencies.
Chicas en Tecnología works with regional and international partnerships to transform the technological ecosystem and create inclusive and diverse spaces in which young women can follow their own paths in STEM disciplines. In 2022, 4,000 young people from 15 Latin American countries who participated in CET programs created over 300 technological solutions to solve problems in their communities.