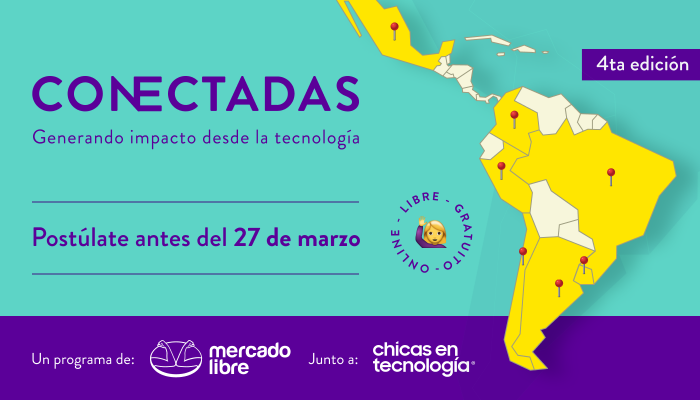 Join "Conectadas," a free program for young females in Latin America
Chicas en Tecnología, in alliance with Mercado Libre and Reprograma, opens applications to participate in the 4th edition of Conectadas. The program is online and free and invites people who identify with the female gender, aged 14 to 18 years, from Argentina, Chile, Colombia, Mexico, Peru and Uruguay to discover the opportunities available to them within the world of technology.
Over the course of 10 encounters, participants will develop technical, impact and leadership skills to create digital projects with a social impact. The program contents address topics such as digital transformation, communication, project development and digital business, problem solving and user experience design, among others. Throughout the proposal, young women will be accompanied by technology-specialized mentors, meet leading women in the field and peers from the region and participate in panels, workshops and talks.
In this new edition, there are 500 seats available and applications will be open until March 27.
Upcoming informational meetings:
March 3 – 8:00 p.m. (ARG). Sign up at this link
March 10 – 8:00 p.m. (ARG). Sign up at this link
March 22 – 8:00 p.m. (ARG). Sign up at this link
Latin American Community of Technology Creators
In 2021, over one thousand teenagers participated in Conectadas and designed 188 technological projects such as websites, mobile apps and dissemination campaigns to solve social problems in their communities. After this experience, 81% say that they have a clearer vision of what they want to do in their professional and academic future, and 91% share that they are interested in looking into technology-related topics.
Conectadas is a free online program, with limited seats. To apply and find out more information, young women who are interested can sign up at conectadaslatam.la. No prior knowledge is required to participate.