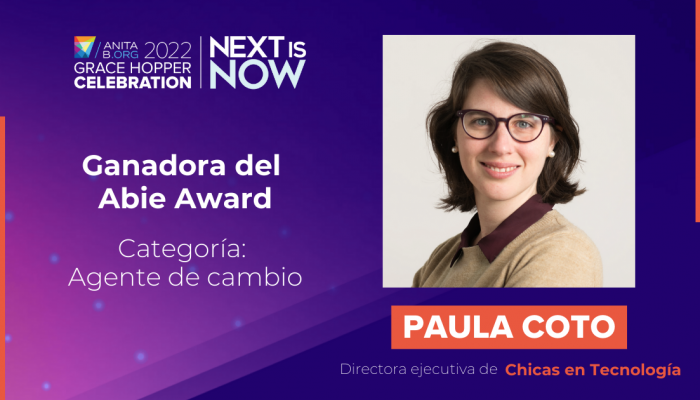 Paula Coto was acknowledged as an Agent of Change in Latin America
The international organization AnitaB.org honored Paula Coto, executive director of Chicas en Tecnología, in the "Agent of Change" category of the 2022 Abie Awards. The acknowledgment was granted because of her job to reduce the gender gap in Latin America. As she was the winner, she was invited to the 2022 Grace Hopper Conference, the biggest global event for women and non-binary people in the industry, which was held in Orlando. Before this international community, she presented the job that CET carries out to make the young women of the region become creators of technology with social impact: "Empowering young girls and gender diversities in technology so that they create a positive impact on their communities is essential. It is our responsibility to extend opportunities for all people and build a more equal future and society," Paula Coto said when she received the award.
AnitaB.org is an international non-profit organization that promotes diversity in technology and works toward making female-identified and non-binary people develop innovative solutions that represent society. It is found in over 50 countries and rewards the female leaders that generate social and cultural impact on their communities by integrating women into the technological environment and that place the issue on the local public agenda. In 1994, the organization created the Grace Hopper Conference, which, during the 2021 online edition, had the participation of over 29,000 people from around the globe, 300 speakers, and the representation of 90 countries.
The gender gap in Latin America
In the region, the pandemic deepened the social and economic crisis and affected women the most. This population is more vulnerable, has fewer financial resources, and gets informal jobs. Data from the Economic Commission for Latin America and the Caribbean (ECLAC) reports that the negative impact on employment and precarious work rates represents a setback of more than ten years in the participation of women in the labor market. Chicas en Tecnología works toward reaching more and more young women from vulnerable sectors. Their training and professional growth in the technological field open a range of opportunities and access to favorable living and development conditions for them and their communities.
"It is an honor to be part of the largest global community of women in technology. At Chicas en Tecnología, we believe that the only way to reduce the gender gap is through comprehensive work with all the actors that comprise the sector. We need to create alliances and generate a cultural change so that young women in Argentina and Latin America are the protagonists of these areas," Paula Coto, executive director of Chicas en Tecnología, shared.