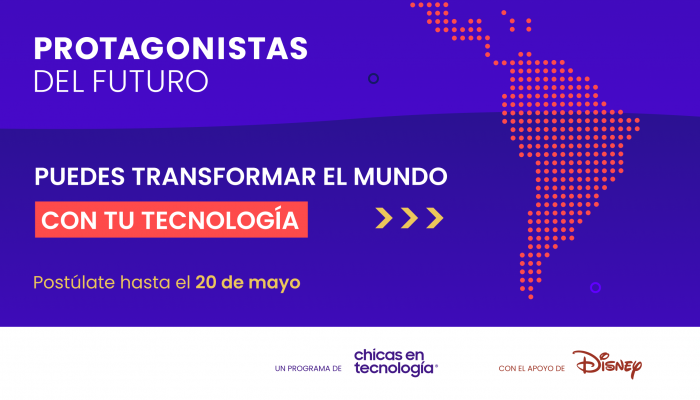 Wherever you are, transform the world with your technology
A new opportunity has arrived for young Latin American women who want to learn about the world of technology with a social impact. This is the 3rd edition of Protagonistas del Futuro, the free Chicas en Tecnología program made with the support of The Walt Disney Company Latin America. The proposal is aimed at Spanish-speaking young Latin American women from the ages of 16 to 21 years who identify with the female gender. Those who want to participate have until May 20 to apply.
What is Protagonistas del Futuro?
Protagonistas del Futuro is an online, regional and free program that seeks to encourage the inclusion of adolescents and women in STEM (Science, Technology, Engineering and Math) disciplines.
What content does the program address?
The 3rd edition of Protagonistas del Futuro will have a renewed content plan that strengthens training in programming with a social impact. At the end of the program, participants will have a navigable and functional mobile app that they themselves created. Prior to this final development, they will learn to identify social problems, investigate and use data, as well as design and user experience notions. Through this comprehensive experience in the technological world, they will also enhance their leadership, communication and project management skills.
How is the modality of the course?
The program lasts eight weeks in which participants will work in groups through synchronous meetings and will have the monitoring and support of facilitators specialized in STEM disciplines. They will participate in panels with professionals from Disney and Chicas en Tecnología to learn more about the workplace and opportunities for growth.
Is programming knowledge required to participate?
No prior programming knowledge is required to participate. Protagonistas del Futuro seeks that all young Latin American women can expand their opportunities and be part of the tech ecosystem. Graduates of previous editions and other Chicas en Tecnología programs who want to expand their knowledge in programming can also join this edition to develop their projects.
More than numbers, opportunities
The 3rd edition of Protagonistas del Futuro has 600 seats for young Latin America women. More than 500 participants have already graduated from the first two editions, who expressed their interest in being part of specific calls in which they learn to develop their own solutions. In 2021, 90% of graduates agreed that the technology-related topics addressed were relevant to their training, and 75% clarified their vision about their future work or academic life. A new opportunity awaits them this year to be creators of technology with a social impact.
+ More information by clicking on this link
+ Application open until May 20 through this form